Campus Information
Map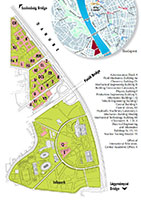 WiFi
Students can use free BME Wifi with 2 devices. You can register them here and in that way.
Parking at the Uni
At the Műegyetem wharf parking is free. About the other parking zones and charges you can learn more here.
Sport facilities
BME Sport Centres
The BME Fittness and Sport Centre (XI. Dist., Bertalan Lajos utca 4-6. Building ÉL)has football field, parquet, wall-climbing gym, squash court, futsal, spinning room and weight room in 3000 m2 surface. There are private trainers who can help you shaping workout and nutrition. The Technogym Wellness System is a professional training program which register your every moving in the gymn and evaluate them in personalized way. The arobic groups follows current trends.
The BME Fittness and Sport Centre is partner in building up a healthy and fit lifestyle with a plenty of tools. The complex can be attended by student and workers, as well as externals.
Another place where students can move is Tüskecsarnok (XI. Dist., Magyar tudósok körútja 7.). There people can do athletic sports, besides fitness, squass, basketball, football, bodybuilding. This also has a wellness part. Prices available here.
The sport centres angle to be flexible in opening hours. To summarize, in the word-class BME Sport Centres everybody finds the best sport for his/her in for affordable prices.
Swimming Pools
BME Studens can also use swimming pools for reduced prices. There is a swimming pool for beginners (XI. Dist., Kondorosi út 14.) and an other for advanced swimmers (XI. Dist., Mányoki út 9.). Students can apply for swimming courses in Neptun system. You can learn more here.
For more information about the sports at the BME contact the Sport Centre.
Libraries
The biggest technical library in the country is the BME's, named OMIKK. You can find it behind the K-building.
To use the library, you have to register in the library building. The registration is easy and only takes a few second. You have to show your residence permit and your student card. Exchange students can use the library but it's not available to check out books.
Other libraries
National Széchenyi Library
It is in the Castle Hill district of Budapest. It is similar to the Library of Congress (Washington D.C.). You can use it with your Student Card and the staff is very helpful.
Szabó Ervin Central Library
The Szabó Ervin Library is a popular study and research place among the students, professors and researchers. There are demographic, statistical, administrative and sociological books.
National Library of Foreign Literature
The National Library of Foreign Literature (Országos Idegennyelvű Könyvtár) is very good collection for literature readers. The priority areas of expertise of the library's collection include world literature, literary criticism, linguistics, music, musicology, national literature and scientific literature.
Central European University Library
CEU Library focuses mainly on social science literature. You can use it only by individual permission.
Student clubs, unions, societies
BME ESN
ESN (Erasmus Student Network) is an organised buddy-system to make easier your stay at BME. ESN is an international student organization with over a hundred local groups throughout Europe. Its goal is to support and develop student exchange. It is composed of over 12 000 members from 339 local sections in 34 countries working in Higher Education Institutes (Universities, Polytechnics, University Colleges etc). ESN is organized on a local, national and international level.
BEST
BEST (Board of European Students of Technology) is a constantly growing non-profit and non-political organisation. Since 1989 we provide communication, co-operation and exchange possibilities for students all over Europe. Being a BME student you can apply for their 1–2 week courses all over in Europe.
EESTEC
EESTEC (Electrical Engineering Students' European Association) is an apolitical, non-governmental and non-profit organization which targets and trains through its activities students from electrical profile Universities, Institutes and Technical Schools in Europe. With the activities EESTEC provides, it creates opportunities for students to reach their potential in academic, professional and social life.
AIESEC BME
AIESEC (Association Internationale des Etudiants en Sciences Économiques et Commerciales) a global network which can receive leadership experience for students in programme. Volunteers organize international and professional programs and global trainee programs for talented youngsters where they can evolve and learn how they can thinking globally and working in groups.
IAESTE Hungary
IAESTE (International Association for the Exchange of Students for Technical Experience) works in Hungary for 30 years and grant to students' development in technological and sciencific fields through its committed volunteers on international and professional trainee programs and organisations.
Architectural workplaces
FUGA
Primary message of FUGA Budapest Center of Architecture is that architecture is an integral part of culture. By showing contemporary artists' works from various fields they hope to strengthen the connection between architecture and related arts. It is their aim to make the audience for the arts and culture feel at home at the Budapest Center of Architecture. During events the ongoing exhibitions – depending on the nature and size of the events – are closed or only partially open.
KÉK
KÉK is an independent architectural cultural centre operated by young Hungarian architects, artists and civilians. The centre aims to open new perspectives in architectural and urban thinking in Hungary through its fresh, provoking and focused programs, relevant also in international context. This organization is currently the only internationally acknowledged professional platform representing contemporary architecture in Hungary. The activities of KÉK receive intensive local and international attention and acknowledgement. KÉK also collects data on the Hungarian architectural scenery for international architecture databases, and participates in Hungarian educational program as well. KÉK has built an extensive international network of partner organisations.
Bercsényi Club
Bercsényi Architectural College besides hosting also has an art centre function. Bercsényi Club is a gallery which was founded by the college members. Nowadays there are as concerts as contemporary exhibitions.